Project
Context
The "Four-minute barriers" project addresses the social inclusion through and within sport, aiming at creating and disseminating new and revisited tools for people with impaired vision and the net of family, friends, supporters, teachers and trainers around them in order to fulfil its inclusive purpose. The Project focuses particularly on children with impaired vision in its objective of supporting the European Commission conclusion regarding the need for a more inclusive Sport in Europe and for bringing people with disabilities together with the rest of the society. Promoting inclusion and using sport for developing more cohesive communities, supporting the transnational exchange of strategies and methodologies in order to make a better use of the potential of sport for social inclusion at national and European level.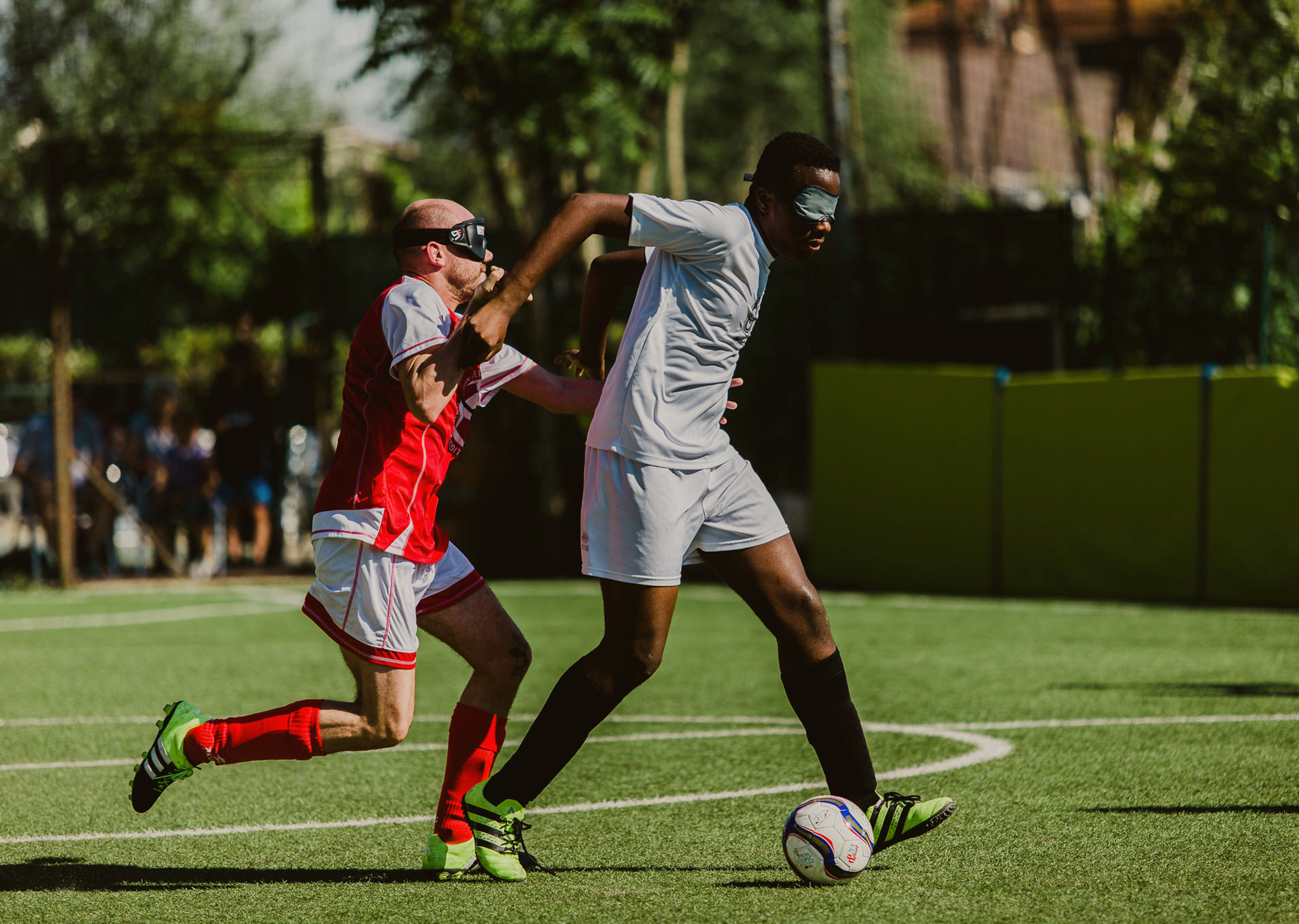 The very name of the Project "Four-minute barriers" is linked with tearing down the invisible barriers, the ones that are not easily perceptible but that are even more problematic. The Project name is based on Roger Bannister's story, the man who tore down all the invisible barriers around him by overcoming the "impossible" task of running 1 mile in less than 4 minutes on the May 6th, 1954. The Project intends to tear down the invisible barriers as Bannister did, bringing innovation, particularly with a new sport, in which sighted and VIP can play together on the same court at the same time, creating real inclusion and interaction without having the sighted give up on their vision. Also through the creation of a Portfolio containing methodologies, knowledge and good practices related with physical activities and sport for people with v.i., and MOOCs in order to facilitate the understanding of the issues, the available solutions and their good and fundamental implication in the lives of people with v.i.
Objectives
Foster sport practice and a healthier lifestyle among people with visual impairments and sighted people together;
Raise awareness on the good implications of sport activities for developing successful social attitudes and enhancing social interactions of people with visual impairments (v.i.) both within the v.i. community and with sighted people, thanks to sport activities specifically designed to be practised by both groups together;
Raise teacher and sighted people within the v.i. community awareness and knowledge on the topic by giving correct information about the various v.i. conditions and the real limitations of each specific condition as well as by spreading good practices especially among educational institutions and schools;
Empower people with v.i. by creating social engagement around the topic of sports for the v.i.
Target groups
Main target group – children with impaired vision, whether attending specialized schools or mainstream schools (secondary and high schools)
Secondary target group – school directors, administrators, physical education teachers at mainstream schools, sports trainers, parents оf children with impaired vision

Project results
Intellectual output 1: Handbook
Development of the idea of the new mixed sport into a handbook containing information about possible versions of the game: rules, movements, tactics, necessary equipment, field parameters, etc. The Handbook will be created not only on the basis of the partners' visions and ideas, but following testing sessions with mixed teams in all partner countries, giving feedback and advice in order for the sport rules to be fine-tuned and the game to be charged with potential to gain popularity across Europe and beyond.
The handbook will be available here in all partner languages. An EN Braille version will also be available.
Intellectual output 2: Portfolio
Researching and presenting existing, modified or new methodologies, knowledge and good practices related with physical activities and sport for people with v.i. into the form of a portfolio – easily accessible and usable by children, youth and adults with impaired vision, as well as by the "net" of family members, teachers, trainers, friends, etc. around them.
The portfolio will be available here in all partner languages. An EN Braille version will also be available.
Intellectual output 3: E-learning platform containing 3 MOOCs
The platform will display 3 MOOCs (massive open online courses):
"Benefits of sport for VIP",
"New mixed sport from peer to peer",
"New mixed sport a new inclusive opportunity".
Every MOOC will comprise of modules, while each module will comprise of units, every unit being composed by two kinds of material: information source and related exercise. The information source will be delivered in the form of articles, papers, videos and pictures and it will focus on the specific unit topic.